Speed Networkers at work
Friday Nov 27, 2009 | Travel Daily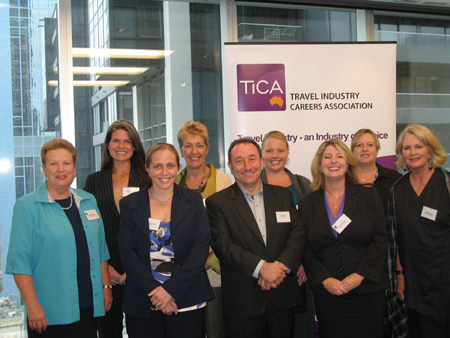 Over 60 travel industry professionals and new entrants turned out at the Travel Industry Careers Associations (TICA) annual Speed Networking event held this week.
The event gives new entrants the chance to meet with Industry leaders and to get a taste of how to be successful in the travel industry.
Feedback from those attending was very positive, with several new TICA members enrolling on the night.
Pictured above from left are: Sandra Chiles, TICA vice chairperson; Heather Green, Downer EDI; Melinda Brown, AFTA; Claudia Rossi Hudson, Claudia Rossi Travel; Jeff Hakim, HIS Travel; Nicole Backo, British Airways; Penny Spencer, TICA chairperson; Shirley Field, Qantas and Janette Davie of the Pinpoint Travel Group. The next TICA event will be held in Feb 2010.