Speed Networking advances travel career ambitions
Friday Nov 27, 2009 | e-Travel Blackboard
Travel Industry Careers Association (TICA) held Tuesday night a Speed Networking event for over 60 industry professionals and students.
The Speed Networking event gave industry members and students the opportunity to sit with seven industry leaders and gain insight on how they climbed the ladder.
Speakers included British Airways Commercial Manager Australia Nicole Backo, Pinpoint Travel General Manager Janette Davis, TM MBA Managing Director Claudia Rossi Hudson, Downer EDI Group Travel Manager Heather Green, AFTA Marketing and Communications Manager Melinda Brown, HIS Travel Managing Director Jeff Hakim and Qantas Manager Sales NSW Shirley Field.
TICA Chair Penny Spencer said it was the first time the association had used the speed networking format where groups of 6-8 participants rotated every 8 minutes to speak with each industry leader.
She said such events were important to TICA in promoting travel industry careers and supporting the industry as well as obtaining more TICA members.
"We want the travel industry seen as the choice career path" she said.
"We don't want people leaving the industry after 2-3 years because then that knowledge is lost. TICA is supporting the industry by retaining that knowledge and recruiting new entrants."
Participating in the event were 16-year old students Tamara Hendriks and Dilek Selvi, who are both currently studying a TVET course in tourism.
They said they hoped to gain knowledge of the different sectors in the travel industry and see what opportunities were available. Tamara and Dilek added that they wished to obtain a job in tourism management and events respectively.
TICA's next event will be held in February 2010.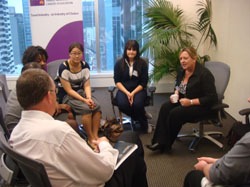 Shirley Field introduces herself to eager participants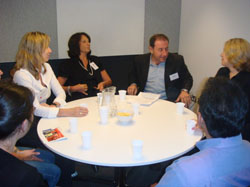 Jeff Hakim answers some tough questions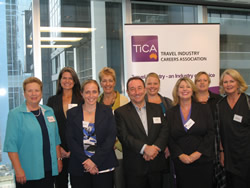 Sandra Chiles, TICA Vice Chair; Heather Green, Downer EDI; Melinda Brown, AFTA; Claudia Rossi Hudson, Claudia Rossi Travel; Jeff Hakim, HIS Travel; Nicole Backo, British Airways; Penny Spencer, TICA Chairperson; Shirley Field, Qantas; Janette Davie, Pinpoint Travel Group.